HEROFEST Lansing, MI August 16, 2019
Aug 16, 2019 @ 10:00 am

-

1:00 pm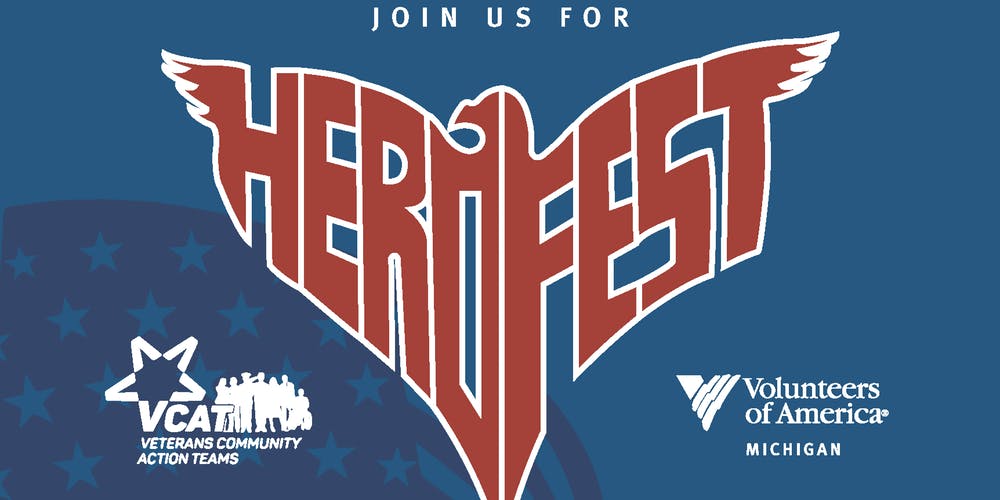 Description
Hello Everyone,
The Lansing Area Veterans Coalition is partnering with Volunteers of America Michigan to bring Hero Fest 2019 to the Lansing area.
What is Hero Fest 2019?
Hero Fest 2019 is a COMMUNITY-WIDE event, focused on the idea of connecting Veterans, current active-duty military, National Guard and Reserve members to the community (Ingham, Eaton and Clinton county). This event is open to the public, but has a Veteran focus.
When is Hero Fest 2019?
August 16, 2019, from 10 am until 1 pm.
Where is Hero Fest 2019?
Cooley Law School Stadium
The View Lounge
505 E Michigan Ave
Lansing, MI 48912
Cooley Law School Stadium- The View Lounge
Cost to attend the event?
FREEEEEEEE!!!!
Cost to register as a Vendor for the event?
FREEEE!!!!!!!
Is the event family friendly?
Yes! Better yet, there will be volunteers on sight to supervise children's activities so the parents can take advantage of all the resources available.
What resources/vendors will be available?
Anything from recreation, college, early childhood education, employment, Medicaid, social security, disability, the VA, housing, and the list goes on and on. The resources/vendors are anyone that either directly or indirectly serves the Veteran population or their families in the tri-county area (Ingham, Eaton, Clinton).
Food?
Yes, there will be food. All Veterans, active duty, National Guard and Reserve members will eat for FREE. All volunteers and vendors will eat for FREE!!!
Prizes?
There is a FREE door prize drawing for all Veterans, active military and national guard and reserve members. There will be an additional door prize for anyone that pre-registers for the event.
Volunteer opportunities?
If you are interested in volunteering or know someone that is, please contact Lisa Ash, to register. This is a family friendly event, so all volunteers will be vetted.
All Vendor applications can be emailed to: Mhetherton@voami.org or faxed to 517-574-7826 ATTN: Meghan Hetherton
For sponsorships, in-kind donations for the raffles, and volunteer sign-ups contact Lisa Ash at lash@voami.org or call her at 313-647-8772.
PLEASE FORWARD THIS TO ANY LOCAL BUSINESS, ORGANIZATION, OR ANYONE THAT MAY BE INTERESTED IN PARTICIPATING IN OR BEING A PART OF THIS AMAZING EVENT WE PLAN TO MAKE IT AN ANNUAL TRADITION!
–
Lisa Ash
Chair LAVC Leadership Board
Support Specialist for Supportive Services for Veteran Families
VOAMI
6102 Abbot Rd.
East Lansing, MI 48823
Cell: 313-647-8772
Lash@voami.org